Mike Nader | August 22nd, 2016
While looking for an inspirational goodbye quote, I stumbled upon this one and smiled… so I thought I'd title my last blog after it.
After 26 years with Vancouver Coastal Health, I'm not sure how to say goodbye.  How do you say goodbye to the many people who've influenced you as a person and leader, who you've spent more than half your life with, who've inspired, supported and mentored you, and who you care very deeply about?
I ponder the same question as I reflect on how to say goodbye to Vancouver where my parents, my brother and sister-in-law, my two beautiful nieces, my aunt and uncle, cousins and all my friends live.  It's hard.  But in this day and age of technology, is it really even necessary to say goodbye?  Is it goodbye or "tweet ya later?"
As I reflect over my time with VCH (and its various iterations), I think of the past and how the healthcare system has evolved.  I was 17 when I got my first job at Vancouver General Hospital. I was hired to install the first bulk purchase of microcomputers (Twenty-eight 286 computers). Microsoft Windows had not yet penetrated the market and I spent the summer installing the software in an old operating theatre in the Willow Chest Centre, which is now the beautiful Blusson Spinal Cord Centre.
Life just seemed a little simpler back then. There was no email. The Internet only existed for us geeky types who liked to play around with text-based communication tools. And laptops and cell phones weighed kilograms, not pounds. They were bricks, not tablets. Our health record was completely paper based and X-rays were still on film.
So much has changed. After years of remaining unoccupied, the Jim Pattison Pavilion at VGH opened its remaining floors to provide great patient care.  What an exciting time to reflect upon, especially given the work that is now underway in VCH to rejuvenate many of our aging hospitals and residential care facilities.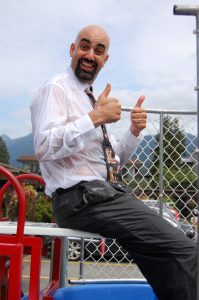 I'm so proud to have worked on the High Level Master plan for the redevelopment of Richmond Hospital and the completion of the Concept Plan for the new facility at Lions Gate Hospital.  This new facility will house new operating theatres, medical device reprocessing, and better patient rooms that will offer greater privacy, better infection control, and an overall nicer experience for our patients.  More recently, the work that we've undertaken to replace and rejuvenate our residential care facilities and beds will be extraordinary for our seniors.
It has been my honour and pleasure to have worked with a driven and committed team in the Coastal Community of Care.  The work that we've led over the past two years has been remarkable. Some of the highlights include:
Integration of health services in the Central Coast (Bella Bella and Bella Coola) into the Vancouver Coastal Health family
Our strengthening relationship and engagement with all of our communities. The First Nations, our regional hospital districts, and foundation partners, without whose support we could not provide the best care to our community. While some decisions have been contentious, I know we've done the right thing for the people we serve.
I'm particularly proud of our collaboration with our First Nations' communities. The renaming of St. Mary's Hospital to Sechelt Hospital was a significant accomplishment, and it was an honour for me to have participated in the renaming ceremony. Our collaboration with the Heiltsuk First Nation when the staff housing in Bella Bella burned down led to a beautiful new facility to house our staff in that community.
We've done extraordinary work in Mental Health. In my first few months on the job, we opened the HOpe Centre, providing new services for people struggling with mental health and addictions. In April 2017, we will be opening the 10-bed Carlile Youth concurrent disorders unit in the HOpe Centre. And we were selected as one of five sites in the province to open an integrated youth health and social services centre through the British Columbia Integrated Youth Services Initiative.  The residents of the North Shore, Coastal Community of Care and Vancouver Coastal Health will all benefit from the integrated services that these two new facilities will provide.
We have a dedicated team working on the Clinical and Systems Transformation project. It has been a rollercoaster ride but we all know that no significant endeavour comes without challenges. But think about the advantages this system will bring to our work in terms of quality and efficiency:  One single record for all patients across Vancouver Coastal Health, Providence Health Care and Provincial Health Services Authority. More safe-guards to protect patients from medication errors.  Information at the tips of our staff's hands. No more running around looking for the chart!
We have significantly improved the processes and standard work around our patient flow within Lions Gate Hospital. Patients are now transitioning to the most appropriate location in a more timely fashion. This will always be a challenge as we keep up with the growing demand for health services, but the team has put the infrastructure in place. I am very proud of the hard work everyone has undertaken to improve these processes.
The sustainability of the health care system will be driven by the work that we are doing with the Divisions of Family Practice on the Primary Care redesign work that we've undertaken. So often, we see patients in the Emergency Department who could have been served by their GP in the community. Our work will enhance the care to the patients, prevent chronic conditions from becoming acute, and support families and our clients/patients in the provision of health in the community.
Well, it wasn't all hard work. We did have fun. For example, I reflect on the first annual staff appreciation lunch at Lions Gate Hospital where I was dunked by our CEO Mary Ackenhusen.  I'm not sure if that was a personal highlight, but we'll include it here. This year's event was particularly memorable as my nieces took great pleasure in dunking me multiple times.
How lucky I am to have something that makes saying goodbye so hard.
For some time, VCH has used the catch phrase of "Come for the job.  Stay for the team."  I can honestly say that this has been my experience with Vancouver Coastal Health.  After I left to complete my Master's in Business Administration (at the Sauder School of Business), I wasn't sure I wanted to return to healthcare.  But I came for a job working as a Y2K project manager.  For those of you not around then, this was going to be the end of the world when all of our computers would fail, our cars would stop working, and the Four Horseman of the Apocalypse would be at our door. Clearly that didn't happen, but through that job, I was able to continue deepening my relationships with so many brilliant people.  Teams of people in Facilities and Operations, Finance, Business Initiatives and Support Services, the Laboratory, Medical Imaging, Pharmacy, and all of our Clinical Operations.  Not just within VCH but across the Lower Mainland in Providence Health Care, Fraser Health, and Provincial Health Services Authority. I can't name everyone who's had a profound impact on me, but needless to say, I am so lucky that my relationships with all of you makes saying goodbye so hard.
Even if you know what's coming, you're never prepared for how it feels.
The realization that we were really leaving didn't fully hit me until I was in the process of booking my flight to Toronto.  I was looking at return flights… and realized I'm not flying back.  Over the past four years, I've had the privilege of serving with the most committed group of health leaders I've ever worked with.  It's been an honour to have worked with my fellow Senior Executive Team members and I know that my family who is remaining in British Columbia is in great hands. Their health care is being led and delivered by a remarkable group of physicians, nurses, allied professionals, support staff, and yes, even healthcare administrators, who are focused on doing the right thing and ensuring that our patients, residents, and clients receive the care that they need in the most appropriate place and time.
Today, I close the door to my past… Open the door to the future, take a deep breath and step on through to start the next chapter in my life.
As hard as it is to leave, I'm excited about the journey ahead. My wife Christina and I along with our two boys Khalil and Rafiq are looking forward to living in a different part of this wonderful country.  I'm equally excited to start my new role at the University Health Network.  Having met and spoken to many people who work in healthcare across the country, I know that health care is full of committed, passionate individuals focused on doing the best for the patients they serve.  I have no doubts this will continue to be my experience when I join the team at UHN.
So now, I'm at that awkward moment… Please know how important you've all been to me. It has been my honour to have worked and served with you. Thank you all for the wonderful years!