Patricia Daly | January 22nd, 2014
Earlier this month, I was watching the Golden Globe Awards on TV and I was surprised and a little alarmed to see actress Julia Louis-Dreyfus smoking an e-cigarette.  This was done as part of a comedy skit, but imagine if anyone tried smoking a real cigarette on a prime time awards show?  Within days of the broadcast, several U.S. Senators and Congressmen wrote to NBC TV expressing dismay about the message sent to children by this incident, and recommending advertising of e-cigarettes be subject to the same regulatory framework as tobacco.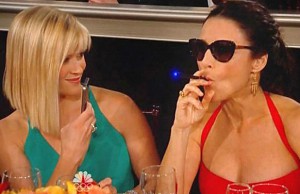 Many of you may have seen or heard of e-cigarettes:  these are battery-operated devices that are designed to heat and vaporize liquids, including nicotine solutions and flavourings.  They are designed to look like cigarettes and simulate smoking for users.  Use of e-cigarettes produces a second-hand vapour that can contain nicotine, propylene glycol (a respiratory irritant), flavourings and traces of heavy metals.  E-cigarettes containing nicotine are banned by Health Canada, but are widely available on the internet and for sale in shops throughout the lower mainland.
Limited evidence
E-cigarettes have been the subject of some debate in the public health community.  There is limited evidence that smokers can use e-cigarettes to help them quit or cut down tobacco use.  Some argue that they have a role in harm reduction, as a safer alternative to smoking, and should be considered as another tool for cessation along with other forms of nicotine replacement.   However, the World Health Organization (WHO) states that the efficacy of electronic cigarettes to aid in smoking cessation has not been demonstrated scientifically, and because of concerns about safety as well as effectiveness, at this time "…consumers should be strongly advised not to use any of these products…" (http://www.who.int/tobacco/communications/statements/eletronic_cigarettes/en/)
There is also growing concern that tobacco companies are getting into the e-cigarette business, and heavily marketing these products to youth, who then become addicted to nicotine.  Use of e-cigarettes in public places can re-normalize smoking behavior for children and youth, and may become a gateway to smoking cigarettes.
What will VCH do?
As a result of these concerns, particularly their use among youth, VCH Medical Health Officers will:
Add e-cigarettes to the VCH Smoke-Free Premises policy, which will ban their use in all VCH owned and operated facilities and on facility grounds.
Recommend that all school districts ban e-cigarettes from school property.
Work with local municipalities to consider adding e-cigarettes to existing municipal smoking by-laws.