Mike Nader | July 8th, 2015
As I prepare to go up to Sechelt Hospital and be part of a dedication ceremony for the three totem poles that are now standing tall in front of the main lobby of the new acute tower at Sechelt Hospital, I began thinking back on some of my most recent experiences with the Shíshálh Nation.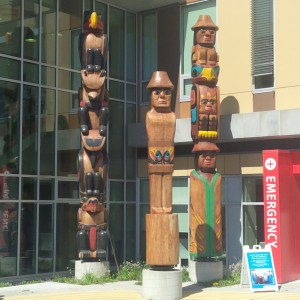 As part of the wrap-up of the process for renaming Sechelt Hospital, I recently had the privilege of attending a Sacred Mask ceremony hosted by the Band. This moving celebration was part of a tribute to organizations and people who have played a key role in ensuring Sunshine Coast residents receive the health care they deserve.
We're only scratching the surface
As I watched – and participated in – this inspiring event, it occurred to me that in some ways, we're still only scratching the surface in our relationships with our First Nations here in VCH-Coastal.
With 13 different First Nations communities located within VCH-Coastal – from the North Shore up to Bella Bella and Bella Coola on the Central Coast – we're in a unique position to be able to develop relationships and help improve health outcomes for these communities.
Given the disparities in health outcomes of many First Nations people in comparison to non-Aboriginals living in the same communities, it's important that we do our best to make some serious headway on this situation over the coming years to close the gap that exists.
Building relationships
But what's the best way for us to go about building these relationships and partnerships in a way that shows understanding and appreciation for First Nations' historical experience and unique cultures?
Thankfully, the completion of some recent consultation work around a project called the Mental Wellness Substance Use Flagship Project offers us a way to establish a strong foundation for moving forward.
With the commitment of VCH to addressing mental wellness and substance abuse issues and the promise of additional on-the-ground resources (5.2 FTEs in First Nations communities) as part of this project, I'm optimistic it will be the beginning of meaningful changes to how we collaborate with our First Nation communities.
In addition to this work, we're also providing opportunities for more of our Coastal staff to go through the Cultural Competency Training course offered through VCH's Aboriginal Health Strategic Initiatives department. This team has also prepared Toward Aboriginal Cultural Competency, a comprehensive overview of work that VCH as a whole is taking on  that I'd encourage you to read.
What do you think?
We've got a great opportunity to make a difference in the health of thousands of First Nations people living in our Community of Care – those living both on-reserve and off-reserve. I welcome your thoughts on how we might take further steps towards that common goal.