Sally Breen | December 31st, 2015
On November 12, Employee Engagement staff gathered for their annual EE forum and this year's theme EE Innovates, our adaptation of Dragons' Den, showcased innovative ideas from star frontline employees.
One of those ideas was The Huddleboard. Made up of Sally Breen, Sabrina Henry, Felicia Granger, Kelly Chow and Tom Grady, the group pitched their great idea to our team of our fire-breathing dragons. See their pitch (video) and Q&A with the team below.
Video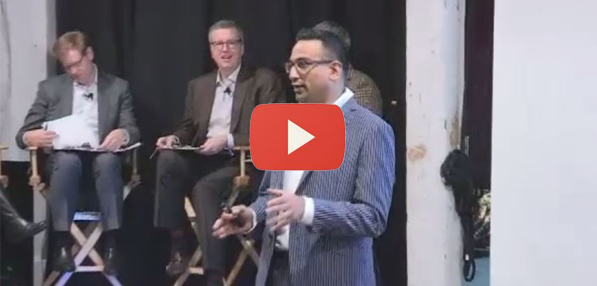 Q&A
VCH News: How did you come up with this idea? What was the inspiration?
The Team: The evolution of this idea is a great example of how social learning and collaboration work. One member of the group posted an idea about social learning and technology on an EE forum and asked for team members. Four of us signed up because of our interest, experience, and passion.  We began to learn from each other and refine our ideas as we participated in face-to-face discussions and online google hangouts. The end result is a much better idea because of the collaboration and information exchange we took part in.
All of our team members have experienced the benefits of social and informal learning at work.  Many of us have had positive experiences from online forums and groups that we participate in outside the workplace.  For example, Sabrina is part of a community of photographers who use Google+ to connect and learn from each other every day and Sally belongs to a writing group that participates online. The inspiration for the Huddleboard proposal was a desire to create a secure social media space for VCH staff to exchange ideas and information, much like a virtual water cooler conversation.
We were also inspired by the knowledge that many VCH employees work in remote geographic locations and have limited opportunities for social learning conversation. Imagine a nurse in Powell River, working alone on the night shift, and trying to troubleshoot a problem with an infusion pump: who can she call? Or perinatal staff working across the region; how can they exchange information to improve patient care?  We felt that staff across the region have no easy way to connect with each other to discuss, demonstrate, apply and innovate in their practice.
VCH News: What is your role at VCH?
Sally Breen, Clinical Education Lead: I currently lead the New Graduate and Specialty Education Programs and also provide educational support to the Experienced Nurse Resource Team.
Sabrina Henry, Compensation and Classification Analyst: I recently joined VCH and my role is to provide work design, job evaluation and classification services for the organization.
Felicia Granger – Transformational Change & Project Advisor, Regional Lean Transformation Services: Providing consultation and advisory services, I partner with senior leaders and interdisciplinary teams to design and implement project and change plans in support of Employee Engagement strategic initiatives.
Kelly Chow, Workability Advisor, Northshore/Coastal: I provide support to ill or injured employees' and help maintain their connection with the workplace and assist with returning to work in a safe and timely manner.
Tom Grady, Regional Manager, Distributed Learning (employee engagement): We manage the CCRS learning management system and work with educators across VCH to design and develop eLearning courses and programs. We are keenly interested in providing staff with access to learning opportunities through mobile and social learning tools.
VCH News: Provide a brief summary of your idea and how it will help VCH achieve its True North goals and what's in it for staff?
The Team: Research shows that over 70% of learning in the workplace occurs when information and ideas are exchanged informally between employees. Limited opportunities for social learning can result in inconsistent practice, decreased engagement, and duplication of effort.  Huddleboard will be a secure social media site that is available 24/7 on desktops or mobile devices and is available to all VCH staff.  It will allow staff to participate in teams, collaborate in communities of practice and build their own learning networks.
In order to continue providing the best care VCH needs to  develop the best workforce. We can do that by leveraging the existing knowledge that staff have and creating more opportunities for employees to share knowledge and learn from each other. Huddleboard helps to move education from the classroom into the workplace. Using HuddleBoard means "I can do a better job, I can help you do a better job and, collectively, we can improve healthcare delivery."
Moving even some education from formal classroom settings and extending the informal learning beyond the physical workplace, helps to decrease overall education costs while simultaneously improving knowledge transfer and application of learning. This helps VCH achieve its mission while being fiscally responsible.
VCH News: What would you like to ask staff? (could seek input on how to implement your project idea etc.)
The Team: We would like to know what does social learning means to you as well as where and how do you do most of your learning at work?