| October 23rd, 2017
I just participated in health research and it was quite frankly, fun.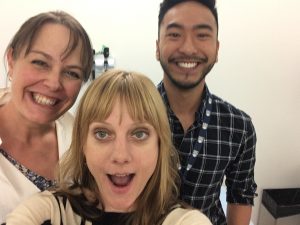 L-R Jess McKenzie (Research Coordinator), me (Participant) & Adam Yu (Research Coordinator)
I've been looking for a volunteer opportunity for a few months – I don't have a lot of spare time on my hands but I wanted to give back to the community through sharing my knowledge or skills. To my surprise, however, it wasn't my expertise or experience that was considered valuable to the volunteer opportunity I chose – it was my healthy body fluid samples.
I subscribe to the VCH Research Institute's "In it Together" email newsletter (sign up through the link at the bottom of their Participate page), and just recently, a research study about Parkinson's sounded particularly interesting to me, so I reached out to learn more.
The secrets of gut health
For years I've been curious about gut health. One of my family members suffers from Colitis, so our conversations are frequently about diet and bowel issues. Also, I've listened to some fascinating podcasts about gut health, like Stuff You Should Know's podcast about fecal transplants, CBC Ideas' episode about body parasites and the Freakonomics episode, the "Power of Poop."
Researchers are discovering more and more links between people's maladies, brain functionality and their "gut health." The VCH research study that interested me is called "Parkinson's disease and the microbiome of the gut and nose" (Primary Investigator, Dr. Silke Cresswell). Not only am I interested in gut health as a topic, but the parameters of being a participant in the study were attractive as well – a time commitment of about 2 hours, a nasal and oral swab, blood sample, some surveys and of course, a mail-in poop sample!
Research participation can be easy
I emailed the study's Primary Research Coordinator, Ella Golz, to express my interest and she got back to me immediately. There were few barriers to participation in this study – I just had to carefully make sure I fit the eligibility criteria as a healthy, "control" subject and book an appointment time to head up to UBC to do the surveys and give the blood and swab samples.
Research participation can be fun & educational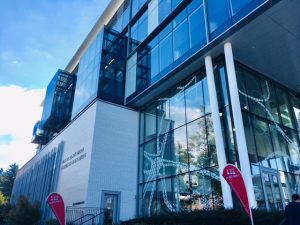 The David Mowafaghian Centre for Brain Health is a stunning, modern facility. Upon my arrival at my appointment, I was greeted by the cheerful Adam Yu, Research Coordinator, and we got straight to work. I appreciate it when people are friendly and courteous, while also conscious of my time as a volunteer – I could tell that Adam wanted me to have fun and feel comfortable while respecting that my time was valuable. We started the session with Jess McKenzie, Research Coordinator, gently taking my blood sample and then Adam and I dove straight into surveys.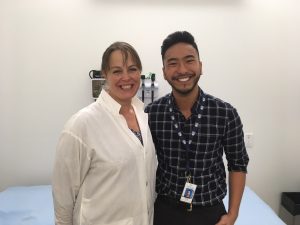 Jess McKenzie & Adam Yu, Research Coordinators
There were a lot of questionnaires to fill out over the course of about an hour, but it was all fairly easy – covering topics from what I eat to how I feel emotionally. Highlights for me were the memory and animal picture identification exercises and sniffing through the German-made "Sniffin' Sticks." Adam and I shared some laughs over the various smells I attempted to identify when taking whiffs of the Sniffin' Sticks, including (spoiler alert) "fish" and "garlic."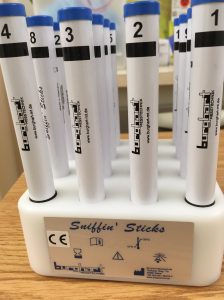 As we went through the surveys I learned that some people who have Parkinson's disease lose their sense of smell or experience changes in their sense of smell, like being unable to smell licorice scents. I also learned about myself – while filling out the British-created diet survey, it became clear that I eat far more salsa and tortilla chips than an average British person. Adam and I agreed that there should be a Tex-Mex category on any diet survey.
My take-home laboratory experiment
My mom is an emergency nurse and after growing up listening to some of her stories about bodily functions, I tend to not be squeamish – mostly curious. So, when Adam gave me my "goodie bag" at the end of our session, I was ready to head home and prep my poop sample – assuming that my intestines were going to co-operate.
The poop sample kit comes with step-by-step illustrated instructions (reminiscent of the big-nosed Ikea-man assembly guides) and a Bristol Stool Chart, so that I could correctly collect the sample and identify the type of sample. Turns out, all poops of the world can fit into the seven globally-recognized types of poop. Who knew?
I popped my poop in the secure mailer that that Adam provided me, headed to the post box and my participation in research came to an end.
Why did I tell this story about poop?
I want to share my story, just in case I can help inspire others to participate as well. After all, as the VCH Research Institute says, we're all "In It Together," so why not get involved?
If you're thinking about participating in research, here are my tips to get started:
Think about what's meaningful to you – do you have a friend or loved one with a particular malady, or are you just curious about a research study?
Look carefully at the eligibility requirements
Look at the time commitment and invasiveness of the study (if you don't like needles, don't participate in a study where they take a blood sample)
Email the study coordinator to express your interest. You can always say no or withdraw from a study if it's not for you
Thanks for reading!
Megan Bradfield, Digital Communications Specialist