Judy Parker | December 8th, 2015
On November 12, Employee Engagement staff gathered for their annual EE forum and this year's theme EE Innovates, our adaptation of Dragons' Den, showcased innovative ideas from star frontline employees.
One of those ideas was Retaining Stars: Keeping our employees from leaving VCH. Made up of Judy Parker, Katerina Iliakis and Delia Bortignon, the group pitched their idea to our team of dragons, suggesting VCH gather and assess relevant data including exit surveys and current research or conduct a new stay survey to determine what would trigger employees to seek employment elsewhere and what it would take to retain them. See their pitch (video) and Q&A with Judy Parker below.
Video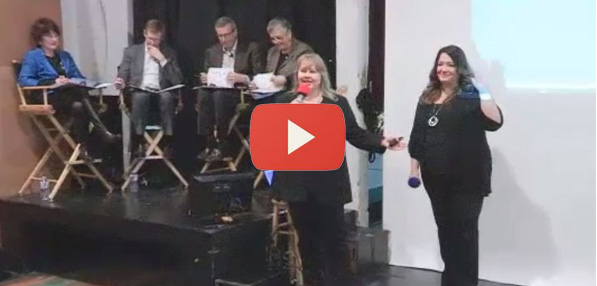 Q&A
VCH News: How did you come up with this idea? What was the inspiration?
Judy Parker: I came up with this idea/was inspired because I've often wondered why people start to look for another opportunity outside of the organization they are in. Turnover is very costly to an organization (including VCH) and organizations should do what they can to retain their employees. What was the trigger point that led them to think they have no choice but to seek employment elsewhere and what could have been done differently to not feel that way and retain them. I've seen colleagues leave VCH and I've been impacted by them leaving with an extra large workload and for some it's been a great move and opportunity for advancement and for others they realize that the grass isn't greener. I believe that a lot of employees would like to provide their thoughts and opinions but are sometimes afraid to and by having a stay survey it allows them to voice their opinions in a safe environment.
VCH News: What is your role at VCH?
Judy: My role is Recruitment Associate. I've been with VCH, in the same role, for seven years. There are nine associates and we work with four difference collective agreements, supporting the hiring process of internal and external staff from the posting of position to receiving and reviewing applications and processing successful applicants, preparing offer letters, ensuring onboarding is seamless (and everything else in between). We act as the central contact for questions and we triage inquires. We have a breathe of knowledge in regards to how other VCH teams work, and support new initiatives or changes within VCH.
VCH News: How will your idea help VCH achieve its True North goals and what's in it for staff?
Judy: This is a pilot project idea to employees asking them to speak up so they can be heard. Ask them via a stay survey why they stay (what do they love, what are we doing well), why they would consider leaving and if they've thought of leaving what could we do to prevent them from leaving.  What ideas do employees have that are viable and sustainable to improve morale and engagement and make VCH the best place to work. By seeking the opinion of our employees and listening to what they say, we will attract and retain employees, develop the best workforce and retaining our employees, which ultimately is putting people first.
VCH News: What would you like to ask staff? How can they help implement your idea?
Judy: I'd like to ask staff if they would be interested in participating in a stay survey (we need their input) – if no, why not? What questions would they suggest we ask employees and lastly how would they prefer to get the survey (e-mail or paper-based).
Why do you stay at your job? Why would you go? Please post any comments and questions below!