Patricia Daly | August 7th, 2015
There's an old saying that you should never eat raw oysters in a month that doesn't contain an "R" in its name. There is some truth to this, particularly this summer.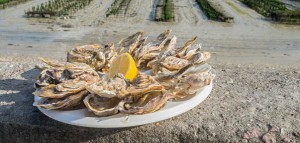 Oysters are harvested off BC's coastal waters, and seem to be increasingly popular, particularly in the summer. Yet raw oysters can cause illness and outbreaks, mostly due to norovirus. Norovirus is a pathogen found in human feces – so how does it get into the oysters? Oysters are filter-feeders, filtering vast quantities of ocean water and concentrating any organisms, including norovirus, found in those waters.  Careful handling and storage after harvesting can't prevent this type of contamination.
For some years, VCH has required restaurants serving raw oysters to post this advisory:
"The consumption of RAW oysters poses an increased risk of foodborne illness.  A cooking step is needed to eliminate potential bacterial or viral contamination" –Medical Health Officer
Not Noro
This summer though, we are seeing more than the occasional case of illness – we have an outbreak of Vibrio parahaemolyticus caused by eating raw oysters. Vibrio parahaemolyticus is a naturally occurring bacterium in BC coastal waters – not from human feces – and can contaminate oysters, resulting in human illness if consumed. This illness can be nasty, almost dysentery-like, with watery diarrhea, cramps, vomiting and fever. It can last up to a week. We have had 30 cases reported so far in our region this summer, with many more elsewhere in the province. Since most cases of foodborne illness are never reported to us, this likely represents the tip of the iceberg.
In 1997, my first year as a Medical Health Officer in Vancouver, the first large outbreak of Vibrio parahaemolyticus identified in North America included cases from Vancouver. We temporarily banned the sale of raw oysters in Vancouver and Richmond, and soon afterwards federal officials stopped oyster harvesting off the BC coast. That stopped the outbreak.
Summer is a hot mess
Vibrio parahaemolyticus concentrations are associated with water temperatures, as they thrive in warmer waters. So it should be no surprise that in 2015, with climate change a reality, coastal waters are even warmer and Vibrio parahaemolyticus is again a concern.
What's safe to eat
This is likely a problem that is here to stay in the summer months. So what should you do if you love oysters? Eat them grilled. Or, if you really crave raw oysters, ask for east coast oysters, where water temperatures are cooler and Vibrio has not been reported.
What about you?
Are you taking the risk and eating raw oysters this summer?  Is the pleasure worth the risk?