Clay Adams | July 16th, 2014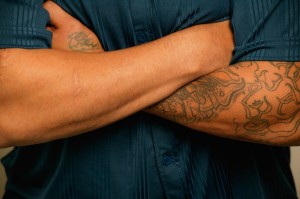 Most of my career has been spent around ink. As a journalist, my life was dependent on two things – a contact book and a pen.
In those days (cue rolling eyes and "old fart talking" comments here) we had to keep track of people we interviewed or needed for stories in a little black – truly, it was – book. An interview was done using a pen with comments transcribed in shorthand on a pad of real paper.
The crap I wrote (as many an editor described it) was printed in newspapers and magazines done on printing presses as big as a truck and as loud as my father-in-law. We used ink for newsletters, brochures, booklets and copiers. Ah, the unforgettable smell of bromide paper.
Today, in the age of cell phones and digital media, ink has taken on a totally different meaning. Today, you talk ink; you talk body art. As in tattoos.
Ink = tattoo
No matter where you go, tattoos are everywhere. I see tattoos on arms, legs, ankles, calves, breasts, necks, wrists and fingers. I have seen people with their entire head engulfed in artwork and others with almost no virgin flesh remaining. A tribute, literally, to The Illustrated Man. 

Now I have nothing against tattoos. In fact, my lovely wife recently got her first – and, she says, only – tattoo. It is of a hummingbird and a flower on her shoulder blade. Why a hummingbird? Because they come to our yard on a regular basis and are both fun and cute to watch. I pointed out to her that we get squirrels and raccoons as well but the look on her face suggested that suggestion was a no go.
According to research in 2010 almost one-third of Americans have a tattoo.  About half of them have as many as five, while 18%have six or more.  Considering there are over 318 million people in the US, that is a heckuva  lot of tattoos. And a lot of tattoo shops. Over 21,000 in fact. Body art is a $1.65 billion industry it seems.
As mentioned, I have nothing against body art. I suppose if you have invested the dollars to be inked, then you want the world to see your living canvas. Ironically, research shows that while people get tattoos for different reasons, over 70% of them say they are hidden from view with men more likely than women to show theirs off (23% versus 13%).
Tattoo = cool
So the question is, why? If you have spent hundreds if not thousands of dollars to permanently paint your body, then why not show it off as much as possible? The answer is perception.
For my generation (cue rolling eyes and "old fart talking" comments again), tattoos were associated with unsavory types. To sport a tattoo meant you weren't someone to mess with (although, in fairness, all the tattooed lads I knew back in Oz were actually really charming, generous individuals who were more interested in knocking back beers than knocking heads). It was – like smoking – almost a rite of passage for some.
While smoking today is – thankfully – in decline, tattoos are not. They now adorn lawyers, doctors, teachers, house makers and child care workers. Why? Because almost 30% of people believe their tattoo makes them feel rebellious. Even more said it makes them feel sexy. Ironically, 17% admit having regrets after being inked and yet only 5% said a tattoo made them feel more intelligent.
Tattoos at work
So with tattoos becoming so common today, what does that mean for the workplace? Should we be showing off or covering up?
Dallas-based Tenet Healthcare bans visible tattoos on employees at its hospitals across the US while Boeing, Wal-Mart and Subway are okay with them as long as they are "non-offensive" (just Google images of "bad tattoos" and you will see no shortage of them – just be warned as people do some pretty dumb things to their bodies).
The concern is that some may take you less seriously if you're sporting tattoos or excessive piercings. The draft VCH Professional Image Policy I recently saw (scheduled to formally roll out later this summer) does not mention tattoos but does stipulate that jewelry and piercings beyond earlobes should be kept from view. But that is for safety, not aesthetics.
Colorado osteopath Amanda Hersh pushed the envelope as a med student by refusing to hide her body art, claiming simply that "This is part of who I am".
Many professional recruiters advise job candidates not to display tattoos in case those interviewing them are prejudice against body art. It is not unusual for doctors to cover up, just in case a patient is intimidated or find them less credible than an inkless doctor.  Santa Rosa, California doctor, mother and part-time blogger Dr. Vero has a thoughtful blog on the issue of doctors and tattoos that is worth a read.
Show off or cover up?
So what do you think? Do tattoos impact your credibility in the work place? Do you show off or cover up? Share your thoughts and comments. You might even want to share a photo or two of your own body art. Just keep it clean please, although I doubt anyone wants to willingly share their "what was I thinking?" moment for all anyway.